"The Garden" by Mike Verge

Statement from Mike Verge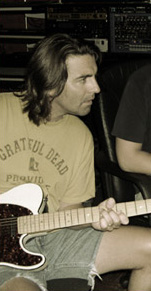 "A little over one month before the dedication of the Garden of Peace, a friend asked if I would write a song to commemorate the Garden and the effort over all. I was thrilled and honored at this opportunity. Of course there was a very realistic deadline staring at me, and I knew we had to get right to work.
Right off the bat, I wanted this song, particularly the lyric to represent the Garden of Peace, but also be accessible to a listener who is not specifically familiar with the GOP, I believe that it works from both angles.
After I toured the site, I kept thinking about what point of view the song should come from, and what it should represent. There are so many crucial points to the Garden of Peace, that it would be foolish (and futile) to try to summarize the whole project in a 4 minute song, and that would run the risk of sounding like a theme song or a commercial, which really wouldn't do the Garden of Peace justice."
After much thought, I felt that the song should come from the point of view of a loved one of the victim, who needs to carry on. The Garden of Peace represents so much; awareness, tribute to the victims, closure, but the thing that it stands out the most to me is healing. I approached the lyric from the loved one's point of view, and their never-ending healing process.
I loved the imagery of the dry river and the garden, so I incorporated them into the texture of the lyric. In this song, the Garden (not necessarily the Garden of Peace), but the symbol of the Garden is a place of healing, whether it be physical or spiritual. The singer goes to the Garden to find their peace and tries not to erase the past, but reconcile it, that there is hope, although at times it seems impossible.
I greatly enjoyed writing and recording The Garden, I hope the song does justice to the hard work and determination of everyone involved in the Garden of Peace.
- Mike Verge, 9/22/04
To download the song, we ask that you make a donation ($10 suggested minimum) through the Network for Good service.
To proceed with the download, please enter your Network For Good "Reference" number. This number is found in the confirmation email you receive from Network for Good after donating. The subject of the email will read "Receipt for donation through Network for Good."
To learn more about Mike Verge . www.mikeverge.com
"The Garden" Musicians:
Mike Verge - Lead Vocals, Guitars
Ken Lubinsky - Drums
Tamara Gebhardt - Backing Vocals
Loie Spagnola - Bass
Steve Catizone - Organ, Wurlitzer, String arrangement, Programming & Production for Nero Muzic
Leo Mellace - Production for Nero Muzic
Jeff Yurek - Engineer (Sanctum Sound)