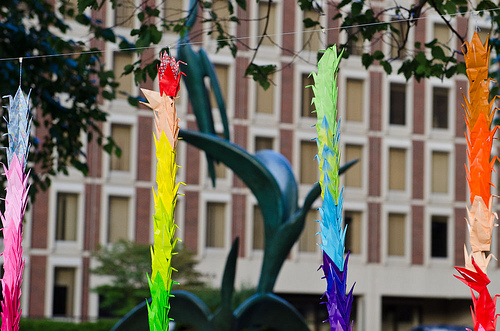 by Dina Kraft, Garden Volunteer
"Show me where your children are," a woman said in a low, gentle voice to the woman beside her.
The pair moved down the curved path of Massachusetts' Garden of Peace Memorial, passing by hundreds of stones, round and smooth, and engraved with the names of murder victims.
Mari Adams, 70, paused and pointed out two stones to her companion, one tucked in just above the other: Robin Van Rader Adams, April 18, 1962 – Nov. 9, 1987. And just below: Michal Van Rader Adams, April 16, 1963 – May 1, 1994. Looking at the stones, in a voice still grasping to comprehend such loss, she said, "They were born just a year and two days apart."
It was September 20th, a cool crisp autumn afternoon turning to evening on the Garden's eighth annual public ceremony which marks the one time a year hundreds of relatives and friends gather at the Garden to remember together, part of a community bound by grief and committed to stopping the violence that so abruptly ended the lives of those they loved.
Families and friends waved hellos to one another, hugged, and placed flowers, candles and the occasional photo on the stones. Some wore T-shirts bearing photos of the faces of their loved ones with words like "Gone but not Forgotten."
"We come here from different backgrounds and perspectives … reminded of the horrible consequences of violence here in our communities," said Attorney General Martha Coakley in an address to the overflowing crowd.
Keynote speaker Rev. Jeffrey Brown, director of the Boston TenPoint Coalition, called upon people to reach out to their neighbors to help combat violence.
He invoked the Biblical "Good Samaritin" story and asked those assembled, "How can we extend the hand of care and love to people we don't know?"
"We must pledge to do what we can … to end the dominance of violence in our communities," said Brown.
He cited Rodney King who famously said, "Can't we just get along?"
Brown said, "The challenge for the 21st century are those words."
In the sprawling brick plaza adjacent to the garden there were not enough chairs in the dozens of rows for everyone who had come, numbers that rose as the evening went on. There were fathers cradling baby sons, sisters holding hands. A mother from Lowell named Alice Muscowitz, her face wet with tears and a gold heart hanging on a necklace imprinted with a photo of her daughter, murdered in 2004.
Another mother, Evelyn Tobin, whose daughter Kathleen Dempsy was stabbed and murdered in her home in 1992 said during her remarks that after 20 years her daughter's murderer had recently been identified, charged with the crime and sentenced. In a message to those whose loved one's killers are still at large, she urged them not to give up and reminded them that there were those in the justice system who care and are devoted to helping.
Those who attend the ceremony every year are members, as they joke darkly among themselves, of "a club no one wants to join."
Still, there is a solace among being among those who understand one another's pain.
"How fortunate we are to have each other and to come together and comfort each other," Tobin told the audience.
Bob Curley, who has become a spokesman for the victim community in Massachusetts, also spoke.
His son Jeffrey was just ten-years-old in 1997 when two pedophiles kidnapped him, suffocated him with gasoline soaked rags and then molested his dead body before dumping him in a river in Maine.
"That's just one story" of those remembered in the garden memorial, he said, "from presidents to little kids from East Cambridge."
"There is no closure for people like us. It will always be part of your life wherever we go. You will be in social functions and people will avoid you because they don't know what to say," said Curley.
"The common thread that binds us all is a pain with anger," said Curley. "Everyone will heal at their own pace, in their own way."
He closed with advice: "It's bad enough that someone killed Jeffrey, that someone killed your loved one. Don't let them kill you … take care of yourselves. "
Eight volunteers participated in the solemn reading of the 52 new names that had been inscribed in the stones and nearby walls during the past year adding to a total of nearly 800.
After the ceremony people strolled through the garden. Dusk had turned to night. And the hundreds of flickering tea lights on the stones and nearby walls flickered like stars. The Garden was also adorned with 1000 hand-folded paper origami cranes. An ancient Japanese legend promises that anyone who folds a thousand origami cranes will be granted a wish by a crane, such as long life or recovery from illness or injury. The cranes are made possible by a former board member in honor of her daughter Anne Borghesani.
A tall woman named Davette Roundtree, 45, walked with a purposeful stride looking at the monument. Growing up and living still today in Dorchester, homicide was no stranger. Her eyes scanned the names for familiar names of cousins, neighbors, friends, and the children of friends who had been murdered.
By the end of the evening she reported her final count: ten. Ten people she knew or had ties to including the most recent murder of a young, upbeat classmate named Diane Mercado, 33, who was killed by her boyfriend last September.
She took heart in the scene around her.
"It's peaceful too. Strangers are talking to each other. In today's society that does not happen often," said Roundtree. "I think it's a good place to be."
To view the photo gallery, click here.
Download the program book.
Watch the slideshow.