Annual Honor Programs
2019 Annual Honor Program
On the beautiful autumn evening of September 19th, MOVA was privileged to host the annual Honor Program. As is custom, Mike and Dylan Verge opened the program with Mike's original composition The Garden, composed and recorded for the first Garden of Peace Honor Program in 2004. The Verges were joined in the chorus by the youth of Boston City Singers, a group whose predecessors also participated in that very first 2004 Honor Program.
Massachusetts Attorney General Maura Healey welcomed the Garden community with a reminder of why all were gathered: to remember loved ones lost to violence, to de-stigmatize the experience of survivors, and to re-commit to ending violence. AG Healey introduced the new Garden of Peace Advisory Committee: Christine Abrams, survivor and former Garden of Peace Board member; Danielle Bennett, survivor and service provider; Chris Dempsey, survivor; Lisa McCue, survivor and service provider; and Beatrice Nessen, former Garden of Peace Board member. Later, for Reading of the Names, the Advisory Committee read aloud the 34 victims' names engraved in the Garden this year.
MOVA Executive Director Liam Lowney noted the diversity of the Garden community with respect to background, geography, victim/survivor experience, time elapsed since loss from recently to many years ago. And yet, there's the significant shared experience of tragic loss to violence. Liam spoke of MOVA's privilege to be newly entrusted with the Garden's stewardship and underscored MOVA's commitment to seek out, listen to, and advocate for victims' and survivors' voices to be heard. The Keynote Speaker was Rev. Liz Walker, senior pastor of the 133-year-old Roxbury Presbyterian Church, home to the Cory Johnson Trauma Program for Post-Traumatic Healing. Rev. Walker spoke movingly and inspirationally in reminding the Garden community we're not alone, and encouraging us to find hope in one another and in community.
Advisory Committee member and Survivor Speaker Lisa McCue, shared her grace in heartbreak with words of remembrance for her brother Kevin, "the protector." She described her family's experiences—shared by so many others—in the aftermath of murder and in the two decades since, including for Lisa, a career helping victims of crime. Boston City Singers closed the program on an uplifting note, with three spirited South African folk songs about Peace.
Click here to see the 2019 program book and here for the 2019 program of events.
View photos from the 2019 Honor Program here. 2019 photos by Christine Lavoie.
2018 Annual Honor Program
On September 20th, 2018, the annual honor program was held at the Garden of Peace to honor the memories of the victims whose names are engraved in the Garden. We were privileged to be joined by hundreds of family members, friends, and other supporters.
Founding Garden of Peace board member Evelyn Tobin welcomed all in attendance. Attorney General Maura Healey provided opening remarks. Keynote speaker Josh Moulton spoke eloquently of his sister, Rebecca, and of loss and then action in the aftermath of violence. We heard the voice of another survivor Danielle Bennett, who spoke about her cousin Sharrice, as well as about their family's experience following their loss of Sharrice to homicide. Through their words, both Josh and Danielle conveyed hope and strength and dignity.
As is the custom, the names of the 47 victims added to the Garden since the last honor program were read aloud. Their families and friends, and those of many others whose names are in the Garden, lit candles in memory of their loved ones and offered support to one another.
We were pleased to welcome back Mike and Dylan Verge, who performed Mike's original composition, "The Garden." Throughout the program and evening, Riverview Chamber Players performed music intended to promote healing.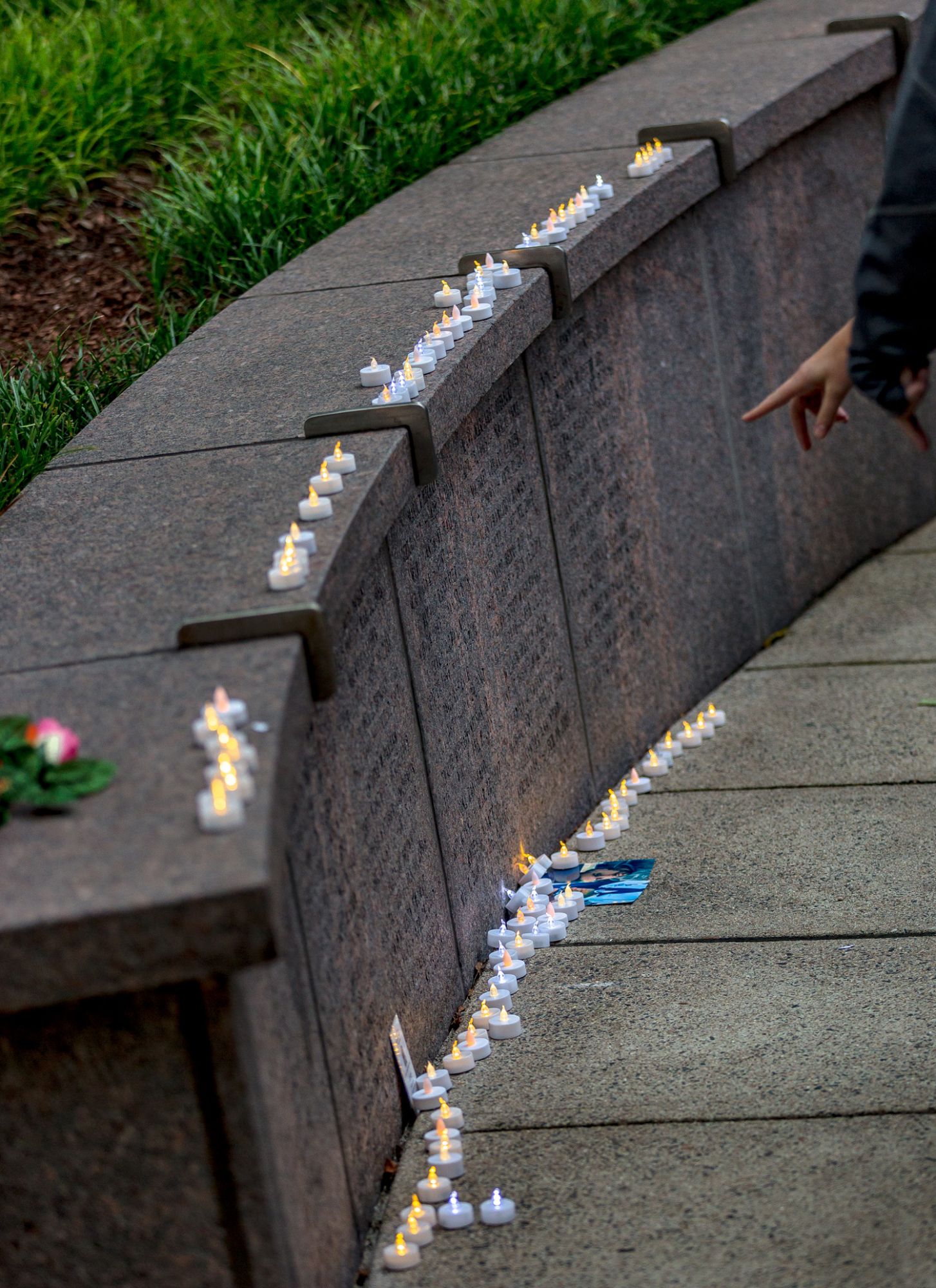 PRIOR HONOR CEREMONIES
Read the speeches, watch videos and see photos from prior years: