Commemorative Engraving
We invite you
to add the name of your loved one to this memorial.
There have been approximately 1,100 names engraved in the Garden of Peace since it was first dedicated in 2004. Since 2011, all engravings have been made on the walls surrounding the Garden. Prior to that, engravings were made on stones in the streambed. Each victim in the Garden is united by the violent circumstances leading to their death. Families and friends are united in their loss, in their efforts to end violence, and in their search to find peace. It is in the Garden, we aim to find some of that peace.
Engraving Eligibilty Guidelines
Victims of Homicide. The victim's death must have resulted from a crime committed against them.
Connection to Massachusetts. The victim must have a connection to Mass.--typically the victim's place of birth, death, or residence, or family's residence.
Family Consent. For applications made by someone other than an immediate family member, whenever feasible, immediate family will be consulted prior to an application being approved. Even within families, we encourage all applicants to communicate with others about the the intent to submit an application for engraving.
To make an application for engraving, please click here.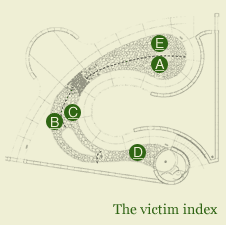 We have created an index to help you locate names in the Garden. The stones in the riverbed are divided into sections A-E. The names on walls are indicated by numbered panel. The name of each victim is listed on this website by year of engraving with a reference beside it indicating the approximate location. We hope this will assist you in locating the engraving of your loved one's name. We will be working to update the index.