Commemorative Engraving
We invite you
to add the name of your loved one to this memorial.
A victim's name will be incorporated into the Garden through a compelted application only and with the family's permission. There are approximately 1,200 names engraved on the river stones and on the walls within the Garden.
Guidelines for Including Victims' Names
Connection to Massachusetts: The victim must have a connection to Mass., typically the victim's place of birth, death, or residence, or the family member's residence.
Engravings include the victim's name, date of birth, and date of death.
To Add the Name of a Victim to the Garden of Peace
The payment for engraving covers the cost of engraving. The Garden does not profit in any way from collecting payments for engravings or donations. It's important to us that all eligilbe requests for engravings be honored. If you're unable to include the entire payment at the time of application, please contact the Garden about payment plans or possible financial assistance.
The cost of $150.00 is effective until August 1, 2019.
To complete application and make payment through the mail: please send completed form along with check or money order of $150.00 to: MOVA/Garden of Peace, One Ashburton Pl., Suite 1101, Boston, MA 02108.
We will contact you to verify inscription information. If you have not heard from us within a week, please call 617-586-1369 or email

[email protected]

to confirm your application has been received.
Applications received after August 1st may be held for engraving the following year.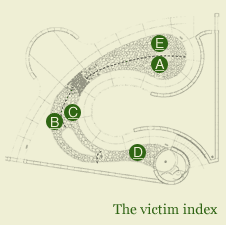 Each victim in this garden is united by the violent circumstances leading to their death. Families and friends are united in their loss, in their efforts to end violence, and in their search to find peace. It is here in this Garden, we aim to find some of that peace.
We have created an index to help you locate the names in the Garden. The stones in the riverbed are divided into five sections A-E. The names on walls are indicated by panel section. The name of each victim is listed alphabetically with a letter beside it indicating the approximate location. We hope this will assist you in more easily locating your loved one's name. We will be working to update the index.